Course description
Clarify your high priority question with a Channeled answer from Lori Wilson's Spirit Guide, Grandmother – in just 24-hrs.
---
Ask 1 question and you will have a 5 - 7 min. Audio File emailed to you within 24-hrs. (Weekdays only)

• Just pose your 1-question* clearly and concisely and Grandmother will know how to provide guidance and clarity from her wise, spirit-perspective.

• In this efficient style of appointment you will not be speaking to Lori & Grandmother directly. Instead, once your order comes in they will simply read the question you sent via email, connect with you energetically through Grandmother and channel the answer to your important question.

Getting support or clarity at a key time could never be simpler!

*Please note that if you are looking for insights on your physical body, you will want to book a 15-minute medical intuition session. In a medical intuition session Lori is using her intuition to focus on your body. In a channeled session Lori is using her intuition to channel Grandmother. This 1-Question format is not for questions about your body.
---
Once you have purchased your appointment we will send you instructions on how to send in your 1-question.




You can also look for these same instructions on your 'student dashboard' on the left hand side menu tab.




Please note that all services and classes are in USD.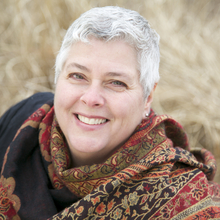 Lori Wilson & Grandmother
Grandmother is Lori's Spirit Guide
Lori Wilson & Grandmother
Lori Wilson B.A., M.S.W., is a social worker, author, trainer and founder of Inner Access 101 and AcccessMarketPlace. Lori has been providing channeling, regression, medical intuition, business intuition and traditional counseling in a successful private practice since 1983. Her background in community development provide the tools and framework for the unique business model her company. Lori holds her B.A. Specialized Honours Degree in Psychology and Family Studies from the University of Guelph and a Master of Social Work Degree from Sir Wilfrid Laurier University.

A key influence in shaping the foundation skills and values of Lori's private practice and of Inner Access 101 is Grandmother, the ancient Shoshone spirit guide that Lori has been consciously channeling since 1989. Grandmother came gently into her awareness through journal writing and has since been a key inspiration to hundreds of thousands through her daily and monthly focus, books, radio shows and presence in the On-Line Classes.
Much of the material taught in the foundation training, Access Intuition 101 is based on Lori's years of blending firsthand, client-driven social work experience with a solid apprenticeship with Grandmother and the spirit world. The training in Medical Intuition, Business Intuition and Artist Intuition has grown from Lori's stellar application of intuition along with the tracking and sourcing skills that are the signature foundation in all of her intuition-based work.


GRANDMOTHER'S STORY


Grandmother was an Ancient Shoshone Elder that lived in the early fourteen hundreds in the Wind River area of Wyoming in the United States. She tells the story that Lori was her actual blood granddaughter in that past life time the 1400`s. As she teaches, when Lori was eight years old in that lifetime, the elders received "word on the wind" that they could not teach their children in traditional ways any longer.
She could not teach in traditional ways until Lori "found" her again in 1989. Grandmother has told us all for years that if enough people trust themselves, think for themselves, be good to themselves and choose to be their own ultimate authority ... that the world will become a better place. And so, as she has asked, we are honored to bring Grandmother's presence and words to as many people as possible.

Grandmother has not changed much since her early days in the 1400`s. She is wise, humorous, often firm, and enormously loving. She has no trouble looking into our wise loving hearts and sharing her words of wisdom with us individually and in larger groups.
In her own words Grandmother says that … "The veil between the invisible world and the visible worlds has continued to become much thinner in these last few decades. Those of us who love you from behind life's veil are completely available to serve you, to be a resource and good company as you pause to remember your own power, inner gifts, strength and purpose. While you travel your unique path that none-other can tread, be reminded that you never travel alone. We will be here whenever you take a few moments and turn your heart to the worlds beyond, knowing all of the while that these invisible places are also your own homelands. A world with more connection and inner trust in it is precisely the world we want to have. Be blessed."
AHO. Grandmother
Grandmother's Portrait: Grandmother Calls The Wind © Kiel Wilson-Ciocci
For More Information on Grandmother

Lori Wilson
lori@inneraccess101.com
Course Curriculum
Here is how to send in your Channeling 1-Question for Grandmother